Pomegranate Creme Cake #CakeSliceBakers
When I buy pomegranates, it feels like a total luxury. Opening the exterior to reveal hundreds of ruby jewel-like fruit bursts makes me feel like a treasure hunter.
I was an adult before I realized that you can eat the whole aril, though. I used to bite the seed and suck out the juice before spitting out the juice-less husk. It took forever to eat a pomegranate.
Then someone explained pomegranates to me as "fruit popcorn." Fruity, crunchy, and you eat the kernel.
Life-changing 😲.
When it comes to this cake though, it didn't turn out as I'd have liked. Unfortunately, the whole baking experience was kind of a metaphor for my past week. My kids have been sick one after the other, and our kitchen is being remodeled so we are without an oven or refrigerator. My husband works in collegiate ministry, so I lugged all my baking equipment over to the Baptist Student Union kitchen. I started baking about 2pm, but unexpectedly had to take the one kid who hadn't been sick yet to the doctor (turns out he has the flu). I returned to the kitchen about 8pm, and after 2 batches of curdled mascarpone frosting, had decided to just go with it and embrace imperfection.
Because my kitchen is under construction, I took pictures on the ping pong table at the BSU building. You do what you gotta do!
I had a couple of issues with this cake--the main problems having to do with mascarpone. I've encountered mascarpone issues
before
, but I wan't able to get this frosting right after a couple tries. The directions said to whip the mascarpone and butter together for 1-2 minutes, add the vanilla and pomegranate syrup and mix again, and then add it to whipped cream and mix again.
After mixing the mascarpone butter with the whipped cream for literally 3 seconds, it curdled. I tried melting it till smooth, cooling it down, and whipping it again, but no dice.
I tried again, whipping the butter, vanilla, and syrup together and then quickly adding warmed mascarpone. I gently FOLDED IN the mixture to whipped cream...and it curdled again. I'm sure there's a way to do it properly, but the stars were not aligned in my favor.
Another issue was with the color of the frosting. At first, it was a lovely pink, but it became browner and browner until it was more of an...earthworm shade. But looking at the pictures, it's not as bad as I'd thought. It's amazing how frustration colors your opinion (literally, in this case!)
A little bit of research uncovered that pomegranate juice is a pH indicator, like the tincture experiments you did with red cabbage water in high school. It contains an amazing compound called anthocyanin that changes colors with the pH of the surrounding liquid.
Science!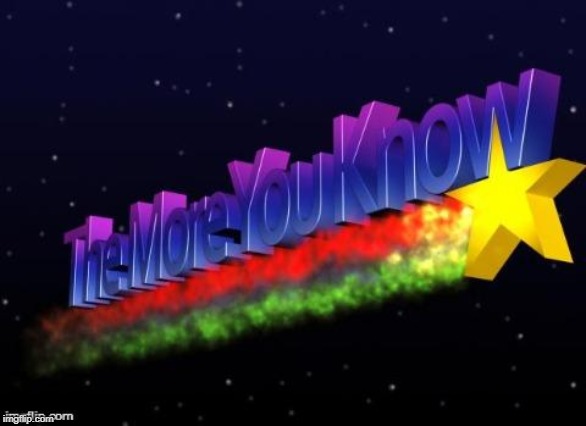 Maybe the addition of an acid like lemon juice to the syrup would help keep the beautiful ruby color.
Next time.
But this time, the more I messed with it, the worse it looked. So I just threw a bunch of pomegranate arils on the top, channeled my inner Elsa and "let it go."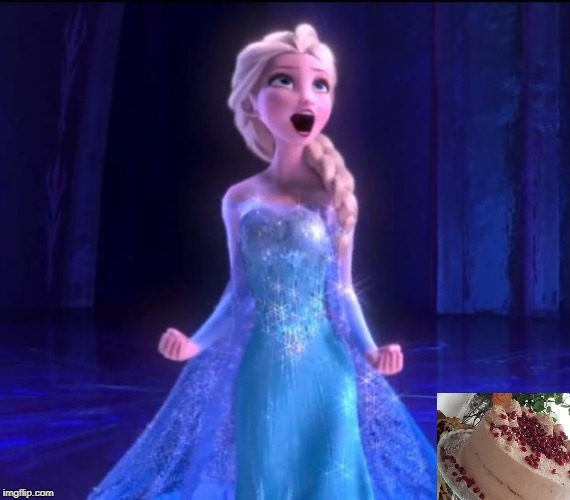 As for the flavor...it was just okay. The sponge was moist, due to yogurt, almond flour and a pomegranate syrup soaking liquid. But for all the pomegranate juice it used, it didn't taste particularly fruity or distinguishable as pomegranate. And like I've previously mentioned, if you say there's a flavor in a cake--by golly, I want to be able to taste it!
So...I didn't have a the best experience with this cake. Probably as much because of the crazy week as the baking difficulties. However, I did have fun making some memes (as you've probably already noticed. I am weird, I know ;)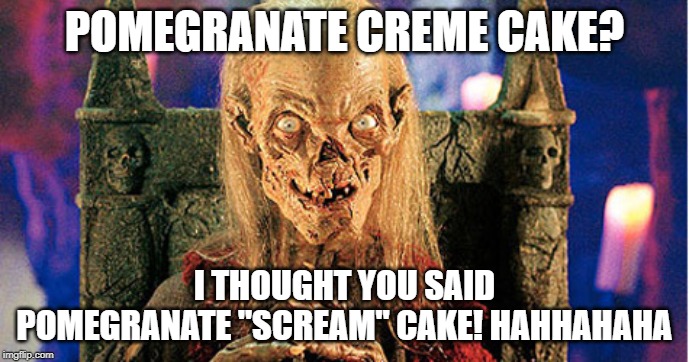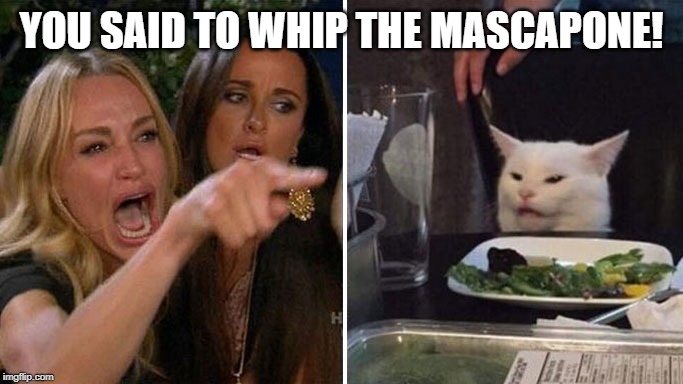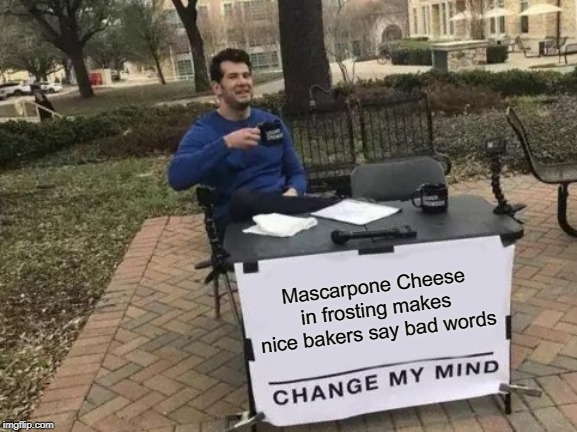 Just being silly. Like I said, I probably am mostly being dramatic. But that's how I roll. If I were a pack of gum, I'd be "Extra" (hehehe).
This Pomegranate Creme Cake, as an idea, has a lot of potential.
However, I feel like I need to tweak the recipe before it is something I'd want to make again or recommend to other bakers. The world needs a beautifully red, luxurious, fruity pomegranate cake. It's out there somewhere. So stay tuned and I'll let you know it I find it. If you'd like to make the recipe as I made it, check out the
European Cake Cookbook.
And Happy Thanksgiving :)
Each month The Cake Slice Bakers are offered a selection of cakes from the current book we are baking through. This year it is
The European Cake Cookbook
by Tatyana Nesteruk. We each choose one cake to bake, and then on the 20th - never before - we all post about our cake on our blogs. There are a few rules that we follow, but the most important ones are to have fun and enjoy baking & eating cakes! Follow our
Facebook
,
Instagram
, and
Pinterest
pages where you can find all of our cakes, as well as inspiration for many other cakes. You can also click on the thumbnail pictures below to take you to each of our cakes. If you have a blog and are interested in joining The Cake Slice Bakers and baking along with us, please send an email to thecakeslicebakers at gmail dot com for more details. The Cake Slice Bakers also have a new Facebook group called
The Cake Slice Bakers and Friends
. This group is perfect for those who do not have a blog but want to join in the fun and bake through this book.
Our choices for November 2019 were ~
Chocolate Kiev Cake
German Prinzregenten Torte
Dundee Cake
Pomegranate Creme Cake
Chocolate Kiev Cake

German Prinzregenten Torte
Dundee Cake

Pomegranate Creme Cake